Pictureville Cinema Information
---
Click on each image to view a larger version: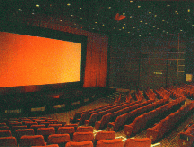 This is the Pictureville auditorium, from a picture in one of the museum's brochures; this photo was taken with the regular 'flat' screen in place. This screen is lowered (along with loudspeakers behind it and curtains before it) in front of the curved Cinerama screen.
---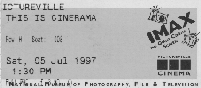 This is Cinerama is shown at 1:30p on the first Saturday of the month; for those who plan to visit, it's best to call ahead and reserve seat D15 (where I sat for the show, thanks to the kindness of Mark Baldock and Howard Rust!).
---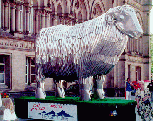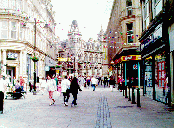 "Downtown" Bradford
Bradford is a medium-large size town about three hours (by train) north of London. It is known for its wool products; the big sheep sculpture, positioned in front of the town hall building, was apparently a part of a large town celebration in progress at the time of my visit.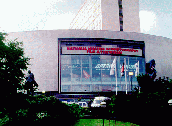 The National Museum of Photography, Film and Television
Home to Pictureville, and the only IMAX venue in the UK (for the next few months, anyway, until one opens in London, at which time the NMPFT will install 3-D IMAX).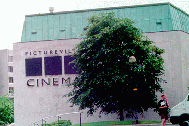 Pictureville Exterior
The Pictureville Cinema, arguably one of the best-equipped cinemas in the world.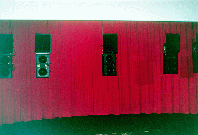 Flat screen
This is the 'standard' movie screen, shown while being lowered (along with its own set of loudspeakers) in front of the curved Cinerama screen. The masking on this screen can be adjusted anywhere from the 1.33:1 silent apeture through 2.75:1 UP70.

Cinemeccanica V8 35/70
This is the 'standard' projector, used for the Cinerama prologue and regular 35mm and 70mm shows at Pictureville. Film can be fed either from reels on the large base or from platters. Microcosmos is shown ready to run from the large reel. Lamphouse holds 6.5k xenon bulb. Projection speed can be adjusted from 16fps (for silent films) through 30fps (for Oklahoma in 70mm Todd-AO)! All three digital formats are provided (SDDS reader is in penthouse, DTS reader was removed when photo was taken, and SR-D reader is incorporated into standard LED soundhead). Mag is also possible, in both 35mm (4-track) and 70mm (6-track).

5-deck Cinemeccanica Platter
Standard platter and feed-roller system. This is Cinerama prologue and Baker panels reside on the top decks, Kolya sits on the second from bottom. The Bradford setup is most likely the first and only Cinerama setup to employ platters rather than reels for film delivery.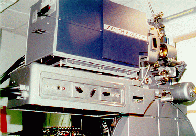 Baker
The center-panel Cinerama projector. Switch at base (not shown) allows changing from 26fps (for TIC) to 24fps (for everything else). Modern lamphouse holds 3.5k xenon bulb, but projector head is mostly original.

16mm, too!
Standard xenon 16mm projector, with Kodak slide projector on top of lamphouse.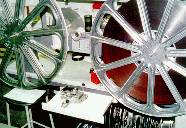 Rewind Bench
Note the 70mm reels underneath! This is Cinerama Act II soundtrack is on the bench.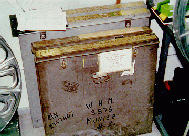 Shipping Cases
Front two cases contain Baker panels for Windjammer (acts I and II), back two contain Baker reels for How the West Was Won.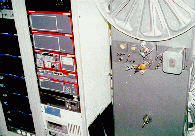 Sound Rack
Pictureville's sound equipment, containing everything from Cinerama sound reproducer (at right) to the latest digital gear, including Dolby CP-200, SDDS, DTS, and Dolby Digital processors, and magnetic track preamps. Amps are six QSC models, rated at 1350 watts (by US standards...roughly 950 by the more-conservative UK standards).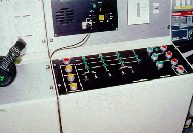 Cinerama Controls
Custom-made modern control panel allows one projectionist to control the entire Cinerama show from a single location.
Projectionist Tony Cutts demonstrates the threading pattern for the outboard projectors. The film runs off of big reels (each holding one act) mounted on towers behind the projectors. In the close-up shot, a piece of green tape is just barely visible on the side of the zoom lens, in order to keep the zoom set at just the right setting.

Strip Screen
A shot looking from behind one edge of the Cinerama screen, showing some of the 1250 individual strips which make up the wide screen.

Speakers
Two of the five loudspeakers located behind the curved Cinerama screen.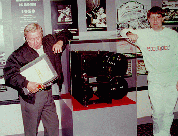 Cinerama Camera #1
My wonderful hosts, Howard Rust and Mark Baldock pose next to the original (and still functional) Cinerama camera used for This is Cinerama, on display outside the auditorium.
---
Return to Cinerama Page.
---
Return to Home Page.
---
This page last updated on February 8, 1998
---
This page courtesy of "vi," the world's greatest HTML editor! :)